The Brehon Hotel, Killarney,
on Sunday, September 24th from 9:30 a.m. to 5:00 p.m.
€80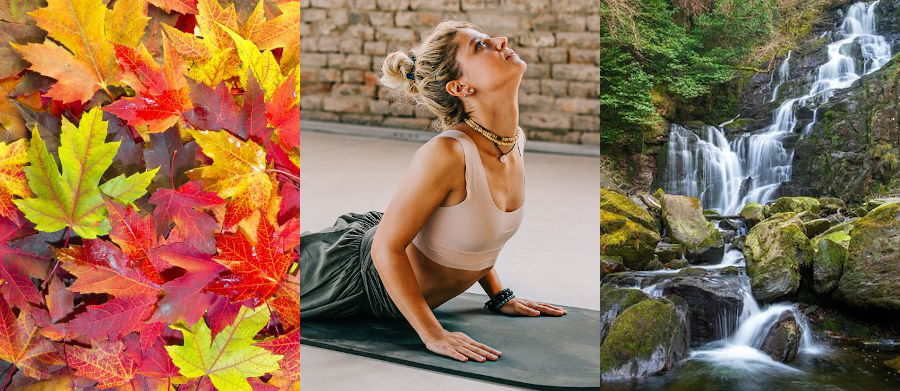 Graceful Surrender into Fall
Join us in The Brehon Hotel in Killarney on Sunday, September 24th for a unique opportunity to cultivate both effort and effortlessness in your practice, as we embody the qualities of Sukha and Sthira. Through conscious movement, breath work, and meditation, we will explore the balance between strength and ease, creating a sense of harmony and grace in our bodies and minds.
Embracing a slow, focused & organic approach to our practice, conserving energies, and nourishing our inner resources. Kathryn and Carmel will guide you through a morning and afternoon session incorporating yin-yang sequences, breathwork, and meditation techniques, allowing you to deepen your practice and connect with your inner self.
Why do we do this? 

It is the time when leaves fall to the earth and a time of refinement for us. Just as trees are drawing in and letting go of their leaves, it is time for us to let go and surrender to that what no longer serves us.
A time to nourish our Yin side after the Yang expansiveness of Summer, as the leaves fall to nourish the  Earth, to the Yin contraction of Winter.
With supporting practices to guide this transition and a chance to slow down, reflect and introspect.
Join us for a day of self-care and transformation, as we move with grace and embrace the beauty of the Autumn season.
Day Retreat Schedule
9:30 am
10:00 am – 12:00 pm
12:00 – 1:30 pm
1:30 pm – 2:30 pm
2.30 pm – 4.30 pm
4.30 pm – 5:00 pm
Registration & Morning teas & Coffees Snacks
Morning practice
Light lunch served in the Brehon hotel
Free time for walks; Torc waterfall, Muckross Gardens or Brehon Hotel Spa/pool
Evening practice
Closing Tea/Coffee
9:30am
Registration & morning teas, coffees & snacks
10:00am – 12:00pm
Morning practice
12:00 – 1:30pm
Light lunch served in the Brehon hotel
1:30pm – 2:30pm
Free time for walks; Torc waterfall or Muckross gardens or Brehon hotel Spa/pool
2.39pm – 4.30pm
Evening practice
4.30pm – 5:00pm
Closing Tea/Coffee
We are so excited to organise this yoga retreat in beautiful Killarney and look forward to answering any queries.