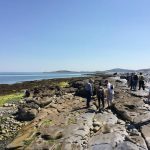 When: 20th to 22nd Nov 2020.
Come and experience a tranquil yet rejuvenating  Winter break at the Premier Burren Yoga & Meditation Center.
This retreat consists of an inviting and uplifting timetable over the weekend of classes by experienced yoga and meditation teacher Carmel Cronin:
Introduction to meditation and deepening of your practice
Breathing practices and breath awareness
Vinyasa yoga classes
Yin yoga classes
Yoga Nidra deep relaxation
Delicious vegetarian meals
Comfortable accommodation at the centre
Guided outing on Saturday by an experienced guide
Sample local cuisine at a local restaurant or cafe on Saturday
Enjoy meeting like minded people in this relaxed friendly environment
Enjoy a stress free weekend of relaxing Yin Yoga, Yoga Nidra and Meditation as well as energising Vinyasa flow yoga, scrumptious veggie food and enjoy local Burren eco walks surrounded by beautiful nature.
This retreat is aimed at beginners to the more seasoned yoga practitioner.
As we approach the Spring season this week end will focus on slowly clearing all the stagnation of the long winter months with Vinyasa flow to energise and awaken and strenghten the body and calming Yin and Meditation to de-stress heal and nourish depleated energy stores and frazzled nervous systems.
This retreat is suitable for all ages and all levels of fitness, but will also challenge each person to work with the postures to their own ability.
Suitable for all levels.
To Book: click on the link below and book directly with the center or:
Tel: Dave 091 637680
Email: dave@burrenyoga.com
For details:  https://www.burrenyoga.com/Ireland-Retreat-Holidays/vinyasa-yin-yoga-and-meditation-with-carmel-cronin-9/