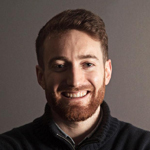 Stephen began his yoga journey in Carrigaline Yoga Zone in 2012 wanting to try Vinyasa yoga to prevent injuries from road running. Afterward, a period of boxing led him to incorporating Bikram yoga and yin yoga as a student.
He went on a yoga retreat in Malaga in June 2018 where he decided to pursue yoga teacher training. In August 2018 he began his 200 hour hatha course with Yoga Diploma in Barefoot Physio in Cork. The course was spread over 13 weekends finishing with an exam in November 2019.
A keen learner, Stephen has also so far taken part in two days of further education with Leslie Kaminoff (author of Yoga Anatomy) and completed a Level 1 teacher training module on yin yoga from Grace Tempany (DubYin Yoga). He takes part in retreats and workshops as much as possible.
He currently works in the pharmaceutical industry as a QC analyst with a degree in chemistry. He organises yoga classes in the workplace for his colleagues being a big supporter of the importance of physical and mental wellbeing at work.
For 2020 he hopes to take part in Yoga for Hope's trip to Kolkata in Oct and take part in a yoga retreat in Rishikesh in November.
He believes yoga can be different things for different people. When he started out – it was purely a physical practice for him to stretch and move the body. Over time the practice became more important to his sense of grounding and wellbeing.
He currently has a daily practice of yoga and meditation which he feels helps him to be the person he wishes to be – open, caring, honest, energetic and content.
He wishes to share the benefits of yoga with students that it may help them in their lives too.