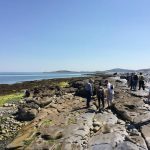 When: Feb 22nd to 24th 2019.
Come and experience a tranquil yet rejuvenating Spring break at the Premier Burren Yoga & Meditation Center this Feb 22nd to 24th  2019.
There are a few spaces left.
Join Carmel for a weekend of good food, good company with like-minded people, lots of slow Yin & invigorating Vinyasa Yoga, heart-felt meditations & Yoga Nidra with daily guided walks in the beautiful Burren.
Recharge your physical & emotional 'batteries' and put a spring in your step!!
Suitable for all levels.
To Book: click on the link below and book directly with the center or:
Tel: Dave 091 637680
Email: dave@burrenyoga.com
For details: https://www.burrenyoga.com/Ireland-Retreat-Holidays/february-vinyasa-yin-yoga-and-meditation-with-carmel-cronin/