Shantie Tedjai-Carroll – 086 051 6897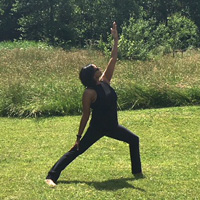 It was pregnancy that introduced me to Yoga about 20 years ago.   Yoga taught me how to move with my growing body and offered me health and strength, as well as a welcoming, supportive and loving community. Yoga taught me how to cope better, to be more myself, to appreciate and respect my body and to believe that I could accomplish almost anything as long as I tried. For many years my personal practice has been Vinyasa Flow; I also recently completed a 200 hr Hatha Yoga Teacher Training.
I teach Hatha Yoga with some Yin Yoga influences. During my classes, I like to modify all movements to suit every level of ability giving options to work yourself a bit harder or not. Appropriate modifications are offered to suit individual needs. All my classes suitable for both men and women and most abilities.