Ruth O'Connor Galvin – 086 8948855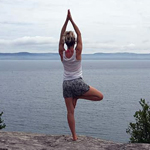 Ruth is a mother to 3 small children. She teaches mixed level Hatha Yoga in Yogazone . She also runs Post Natal Recovery Programmes to help Mums recover from childbirth and C-section. She has developed these programmes herself based on her own personal recovery and from her training in Yoga, Reiki, Kinesiology, Massage and Meditation.
She also teaches Yoga and Mental Wellness programmes for Secondary Schools. Ruth is deeply passionate about her work and enjoys helping people to reconnect to themselves and feel well.