Ruth & James McDonald – 086 0875035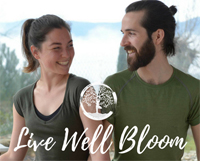 Ruth & James teach gentle yoga & music meditation and monthly Crystal Bowl Sound Bath.
Ruth & James are a husband and wife yoga teacher team running a health and well-being business called LiveWellBloom. Both teachers have completed their 200hour RYT training in the south of France and their Yin Yoga training here in Ireland. Their main focus is using the tools of yoga and sound to relax, de-stress and heal. Ruth's background is in medicine and psychology, while James holds a degree in Music and Geography, the combination of which creates a balance between music, nature and science. Their classes break everything down to achievable moves for all levels and inspires deep relaxation and control over ones well-being.