FELDENKRAIS WORKSHOP: CLARIFYING SHOULDERS.
When: Sunday 10th November 2019
Time: 11am- 2pm
Cost: 35 euro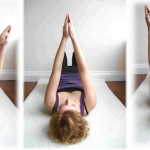 Shoulders, neck and head and how many more parts of your body work together in that area?
No wonder there is often discomfort because one of the elements is not in tune with the
others.
We move all day long, but chances are, we don't know HOW we move.
For example, how do you turn around to look over the shoulder in the car? Which parts of
yourself are involved? Is it all of the spine, can you feel the ribs, the shoulder blades, the
eyes, the knees? Do you feel that you can make it a smooth and easy turning?
In Feldenkrais Lessons you get to experience simple, non-habitual movements that you are
perfectly able to do, but which you might have forgotten or just never get round to using in
your daily life. You are encouraged to move only within your own range of comfort. These
movement-experiments are most often done in lying on a mat on the floor and done with
mindfulness so that your nervous system gets the necessary time to re-organize and find the
easiest and most efficient movements.
You will be asked to be curious about HOW you are moving and invited to feel changes.
Funny as it may sound – this is how the nervous system learns best and how it brings about
re-organisation of muscles, the skeleton, the brain – the whole of yourself !
In Moshe Feldenkrais' own words, what the method aims for is "a person that is organised to
move with minimum effort and maximum efficiency, not through muscular strength, but
through increased consciousness of how movement works."
To Book : Susanne 086 1959684
E mail: susanneleutenegger@gmail.com or info@yogazone.ie