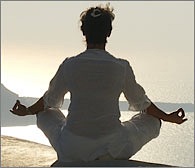 Eileen teaches  monthly Relax & Renew Restorative Yoga.
Eileen holds certifications in Yoga and Pilates, enjoys teaching a lighthearted and creative practice blending different styles that include teaching breath work, meditation, vinyasa flow and restorative yoga.  A busy mother of three, yoga has proved a strong anchor in life, crediting yoga breathing to relieve asthma, and mindfulness in challenging times. Pilates training was completed with Bodyfirm Pilates.
Eileen considers yoga to be a journey during life, exploring Astanga in India with Michael Gannon, Vinyasa with Jaqueline Heisel,  workshops with Sri Dharma Mittra, Anusara with John Friend, Bridget Woods Kramer and Betsy Downing. She feels privileged to have trained with Judith Hanson Lasater in Restorative Yoga, Shakti Vinyasa & Meditation with Shiva Rea,  She is also trained in Cancer Conscious Yoga and Pilates Restorative Exercise for Breast Cancer survivors. She encourages students to make each practice their own, listening to their unique internal rhythm taking yoga off the mat and into their lives.  Inviting all to find the balance between effort and ease, centering on mind / body connection.