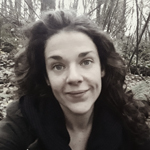 I trained and teach Hatha and Yin Yoga. My Hatha training was in Northern India and I trained in Yin Yoga with Josh Summers.
I am a Reiki Master in USUI and Tibetan Reiki. I have a BSc from UCC and I am currently training as a Medicinal Herbalist.
My mission is to help harmonise our energetic flow, through energy and movement we allow wellness to flow, bringing balance to our mind, body and soul.
When energy is balanced, we are in harmony with ourselves and our surroundings. When energy is unbalanced it can become stagnant or blocked, disrupting its normal flow causing disharmony and illness. We can also become deficient in energy that causes fatigue, haziness and lack of clarity.
Yin Yoga stimulates the energy channels (meridians) to allow energy to flow and enhance our Qi, it also floods the joints with energy to help remove stagnation.
Reiki is the channelling of Universal energy that helps to removes knots from our energetic tapestry that cause reoccurring patterns in our life.
I work with groups and one on one, using Yoga & Reiki independently and combined to help restore our energy flow.