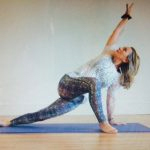 Carmel teaches Dynamic flow, Ante Natal yoga, Yin & Restorative & Therapeutic Yoga and owns & manages Yogazone studio. Carmel had been practicing Yoga and Meditation for over 20 years and teaching Yoga since 2002. She completed the 200 hr with YTTC in 2003 and then went on to do a Yoga Therapy diploma in 2007. Since then she trained with Shiva Rea in 'Fluid Power-Vinyasa flow, and recently compleated level 1 and 2 Yin Yoga TT with Sarah Powers and Sebastian Pucelle & Josh Summers.
She trained in Relax & Renew® Restorative Yoga with Judith Hanson Lasater. Carmel is also BirthlightTM trained with Francoise Freedman & Uma Dinsmore Tuli in 2005 to teach Ante-Natal yoga and went on to train in Mother & Baby Yoga soon after. She has also studio Yoga Nidra with Uma Dinsmore-Tuli. She has attended numerous workshops and teachings is influenced by such greats as Donna Farhi, Howard Napper, Dr Ruth Gilmore, Laurence O Toole, Andrea Ram OM, including Pranayama workshops with Swami Pragamurti Saraswati.
Carmel is also a Certified Level 1 Yoga Tune Up® Teacher and Yoga Tune Up® Therapy Ball Practitioner. She also holds qualifications in ITEC Level 3 Anatomy & Physiology, YTU Integrated Embodied Anatomy ,Indian Head Massage and Reiki 1. She previously work in the Pharma Chem industry and is a holder of a MSc in Chemistry.
Her style is a fusion of precision and alignment in accordance with the Iyengar school but she likes to mix this with the dynamic breath and flow sequences for more advanced levels. Carmel teaches Dynamic Flow, Therapeutic Yoga, Ante Natal, Baby Yoga, Yin/Restorative and teaches regular retreats in the Burren Yoga & Meditation Center. Carmel approaches her yoga classes in a light-hearted and fun way: allows students to create their own space, develop a focused attitude, and guides students to explore their own potential to experience the many benefits of yoga.
She also has her own on-line yoga shop www.yogashop.ie
Testimonials
"I had my baby prematurely at 33 weeks, so naturally I wasn't fully prepared to be giving birth so soon. Thankfully, when I was in late labour the breathing skills I had learned at pregnancy yoga kicked in. It really helped me to relax and focus on easing and going with the flow of my contractions. I didn't have time for any drugs and luckily the pain (shock!) was manageable, as I felt as if I was in control of my breath. I also enjoyed the yoga classes purely for exercise and time out for me, during pregnancy. Pregnancy yoga was definitely the best and most enjoyable preparation I could have done for labour and birth."

"I can Highly recommend Carmel's Baby Yoga Classes to all new mums. I have 2 boys Aaron who is 2 1/2 and Joshua who is just 6months and I took both boys to Carmel's Baby Yoga Classes. Carmel Creates a very relaxing, calm atmosphere conductive to relaxation, learning and good fun. It is a very special opprtunity to have one to one with your baby, strengthening the bond and confidence free of outside distractions. It was also a great way of meeting other mums and making some new friends along the way. I still keep in contact with some mums from the first class I did with Carmel."

"I have been doing Yoga with Carmel for a number of years with great benefits to my health. I first started doing Yoga to relieve the stiffness and pain I was experiencing particularly in my hands and knees, it has improved my flexibility and reduced the pain in my hands enormously and my knees are without pain. It has improved my posture and my overall fitness levels and stamina. I am now more flexible than I was ten years ago. It is also beneficial in managing stress and tension and improving sleep."

"I am a secondary school teacher and I have been doing yoga with Carmel twice a week for the past five years. Several of my colleagues also do yoga with her. We love her classes. She is an excellent teacher who manages to combine fun and hard work effortlessly. She caters to all levels of ability and takes great care to adapt the yoga poses to suit each individual student Her yoga makes us not just physically fit but mentally calm. I cannot recommend her classes highly enough."