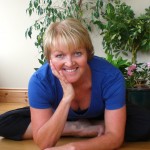 Christine teaches Yogalates.
Christine teaches both Yoga and Pilates having come to yoga over 20 years ago in search of a better work/life balance. Her Yoga teacher training was with Contemporary Yoga Ireland and she has been teaching for the past ten years. Her approach is one of personal enquiry, allowing each student to develop and deepen their own practice in a safely aligned, progressive and non-competitive way.
Following a back injury from a fall, she became interested in Pilates and in combining Yoga and Pilates principles to improve posture, develop core strength and flexibility and help prevent general and sport specific injuries. She completed her Pilates certification with Bodyfirm Progressive Pilates Academy.
Given her interest in the therapeutic aspects of Yoga and Pilates, Christine then trained as a Yoga Therapist with the YTTC and the Yoga Institute, and most recently trained in Yin Yoga (sometimes known as "Yoga for the Joints and Meridians") with Josh Summers, all of which allows her to tailor specific programmes for corporate, group and individual needs. She works with all age groups and abilities and believes that Yoga and Pilates are for everyone. Christine is also a qualified Massage Therapist, holds a Degree in Marketing and worked as a Business Teacher and in the corporate sector for many years.
Testimonials
"Christine is an excellent experienced teacher. She conveys her love of yoga calmly, clear instructions demonstrated. The weekly programme varies and flows. I returned to Yoga-lates classes last autumn with chronic lower back pain.  I have emerged this summer more supple and strong".
Raphaela Heaslip
Director, Sesame Institute (Drama and Movement Therapy)
"My mobility and fitness levels have definitely increased. It is the one hour in the day in which I can really switch off from a busy household and from work. I leave feeling completely relaxed and chilled out. It is easy to see why your classes appeal to young and old, male and female. I would recommend your classes to everybody and I would like to wish you continued success in all your teaching".
Elma Moore McCarthy