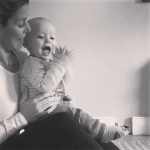 Alma teaches Mother & Baby Yoga.
It all started at the age of 19 where I tried my first yoga class…it was an Ashtanga class & afterwards I thought WHAT THE HECK WAS THAT??!! It hit me like a steam train & I was hooked! I was pretty sporty as a youngster so maybe Ashtanga just drew me in because of its intensity. As the years went on I realised the benefits yoga brought to me both physically & mentally.
I dipped in & out of yoga for a few years…then in 2008 I decided to do take it a little more seriously & completed my first teacher training with David Curtis (200 hours Vinyasa Flow)…it was tough but I loved it. Opened my first studio, Yogaworx, straight after & continued to teach & train since then! I have taught over 2,500 classes to people of all ages & levels. I absolutely LOVE teaching & have made some long lasting friendships through teaching. I teach from beginner level to intermediate level…with a strong focus on alignment, working to your own strengths, being aware of your weaknesses & having fun! In my opinion yoga shouldn't be too serious BUT always safe.
My training & teaching has taken me all over the world…from Cork to Thailand to India…I've been very lucky. I have trained with some amazing teachers including David Swenson, Jason Crandall, Taylor Harkness, Patrick Beach, Jen Posner, Gillian Mooney, Greg Walsh, Luke Jordan & many more on my journeys.
In 2012 I had my first boy, Archie…it was then that I realised how important yoga is for pregnancy; labour & post baby. I recently had my second little boy Sonny naturally & I have yoga to thank for it (& my hubby Des too:). I now teach Pre natal; post natal & Mum & baby classes.
My next round of training will be next year with Jason Crandall in London & I'm already excited to learn more.
By the way it's not all about hopping on planes to train & learn, we are so lucky to have some amazing teachers right here in Cork so my advice…find the one you like & stick to it…enjoy the ride!